About Us


Secure your place for April 2022 now.
Twiggy's Day Nursery Ltd
Statement of intent
Introduction - Intent
Twiggy's Day Nursery Ltd has three local settings which sit in the heart of each community.
Twiggy's is a home from home setting with the ethos being for children to learn, develop and grow. Our core values are about Kindness, Friendship, Honesty and Respect all of which are underpinned by the Love for our community and family life that bond us together.
Our communities are close knit and we want the children who attend our settings to grow with a strong sense of self and to develop independence, creating confident learners who reflect and enrich our wonderful, multicultural families that we serve.
It is true that from little acorns, mighty oak trees grow and we want to continue to feed the imaginations of our bright young generation, we want the children to leave Twiggy's knowing that they are amazing and that they can achieve and succeed.
Twiggy's Core Values
| | | | |
| --- | --- | --- | --- |
| Kindness | Friendship | Honesty | Respect |
| The acceptance and emotional warmth of children and adults towards each other is core to our caring and teaching approach. | To recognise that we are not alone and to value the company of another helps feelings of belonging to create a happy learning environment. | Teaching children to be transparent and that it is ok to make mistakes and find solutions. To be accountable for our actions. | To welcome difference and develop an understanding of other and how others may choose to live in our community. |
All of these core values at Twiggy's are encircled with Love and understanding and recognising our emotions through this learning journey will only enrich the children's learning experiences and create greater capacity for growth and self regulation.
Twiggy's Teaching Aims
Twiggy's aims to create a learning environment for children that makes them feel excited to learn and that they actively show excitement in the baby room or happily talk about their days here with us in the older age groups and are happy to attend.
We look at the emotional building blocks for children and build upon them initially feeling safe in our care with hugs, repetition of words and lots of eye contact, particularly with the babies as their speech extends from delightful babbling, leading to the confidence to ask questions that stretch the imagination and extend their conversations and use of language at every possible opportunity.
At each transition in the Nursery and after school / holiday clubs, we want the children to find something magical in each day, to experience fun and laughter and that through an enriching learning and enabling environment, vocabulary and imaginations are expanded in the process.
Our experienced Nursery staff get to know their key children well and are able to challenge the children and seek out the next stages of learning, setting expectations that help children reach their full potential. The child's learning journey is carefully handed over at each room move to ensure the child's needs, strengths and challenges are supported and developed.
Twiggy's aims to create confident learners by the end of their time with us and we enjoy a healthy working relationship with local schools to support with successful transitions for all of our children.
Aspirations for Twiggy's children
Our aspirations for our children link strongly to our core values, with an overarching principle of Love which encircles the values of Kindness, Friendship, Honesty and Respect. We believe that creating the right emotionally warm learning environment leads to a better quality of teaching and learning.
We want our children to leave Twiggy's with self belief that they can achieve and that they are worthy of success and Love.
We aim to achieve this by teaching children how to use positive and constructive language to widen and strengthen our interactions with society. How appropriate social cues and behaviours lead to better responses from the people who we will meet and interact with in our daily lives.
Children need strong, healthy and happy relationships with others and we look to demonstrate how to create such relationships with others to avoid isolation. We celebrate difference and respect other's cultural and religious choices. Equipping children with the knowledge of all aspects of our community will enrich children's level of understanding.
We want children to feel confident with their basic maths and English skills as well as understanding how to lead a healthy lifestyle. We achieve this through lots of play where children just naturally absorb information. A robust communication friendly environment will give children the tools to understand not only themselves but others around them in a healthy, respectful way.
Ultimately we want children to have a sense of right and wrong and we actively want them to be good citizens who are able to fully integrate into our community and to understand it's history. The aim is that these skills are passed on to the next generation as the Early Years is our most intense period of learning so lets flood our children with the happiness of life!
Implementation
Curriculum Design
Our shared values are at the heart of curriculum design and the strong sense of self will be encouraged through each topic, through each theme and through every interaction that we have the privilege of having with your child.
Our skilled teachers show enthusiasm in each session spent with the children and they will bring alive a subject or activity with the use of skilled communication that expands your child's knowledge, creating new ways of knowing, new idea's and a wild imagination. The possibilities are endless!!
We will encourage inquisitiveness, activities that challenge and engage and activities that bring children together for cooperative play. In turn this links all our values together.
Enrichment
Twigggy's creates fun and educational activities through it's child led and teacher initiated planning and we use every opportunity to extend a child's learning and add in building blocks at the child's pace to enrich their learning experience.
We seek to add enrichment by way of using local community members and community experiences wherever possible, such as Healthy Eating advisors through to Christmas Carol singing at the local elderly Community Centre.
Wider Community
Twiggy's is a great reflection of the community we serve and we like the children to understand their heritage both socially and culturally. We reflect on differences and similarities to ourselves with the wider community and we respect all members of our community and value different views and perspectives. Our children's voice, views and opinion will be heard and we shall help to shape positive views on our community and how they may wish to engage within it.
Impact
So how do Twiggy's know we are getting it right!!
They say a picture paints a thousand words but Twiggy's want to hear your children speak them. Your child's vocabulary will be bursting at the seams!!
Feedback from our parents is very important. You know your child best and hearing your voice within our work is a great measure of how far a child has come.
But above all, your child's learning journey with us will be one of adventure and curiosity and memories which they can take away with them and build upon in there next educational and life mission.
Measures of success
Yes of course it's the obvious 2 year checks and overall progress within the child's trackers – Prime and specific area's……………But…………. the magic happens with how much fun and laughter we hear during each day at Twiggy's. Creating special friendships demonstrating kindness and honesty, mutual respect and love for other human beings are the core skills to successfully engage with others and to grow into an even more awesome all round super child!!!!!
Our rooms are as follows:
Tweety pies – baby room for 3 months to confidently walking
This room at each setting will have a maximum of 6 children at any one time. It is homely and warm with lots of age appropriate stimulating toys and equipment to aid physical and social / emotional development. The staff are skilled in supporting the children's growing inquisitiveness and development. This room has fun loving and caring staff who are all first aid trained to ensure your children are given the care and attention that they need to feel secure. Please come along and book a taster session and spend time in the room to see how much fun your baby can have 🙂
Sample picture of part of the Donnington Baby room.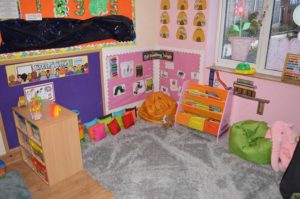 Little chicks – two to three year old room.
This room will have a maximum of 12 children at any one time at the Donnington site and a maximum of 16 at Madeley and Sutton Hill sites which are slightly larger. The rooms are light and airy and is spacious for the children to freely move around and explore their environment.
The toys and equipment are rotated regularly to help nurture their interests and developing learning styles and to capture their imagination.
Sample picture of the Donnington site.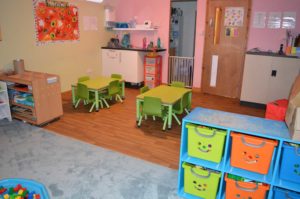 Robins – Pre school room for three to school age.
The Pre-school rooms are large light and airy rooms with plenty of free space for the children to move about and explore their environment. The rooms have direct access to the outside play area's and will have a maximum of 16 children at any one time at each setting.
The rooms have its own toilet area with small child size sinks and toilets to encourage independence to help children prepare for school.
Creativity and inspiring staff will support the children through to their school transition time.
Sample picture of the Donnington site.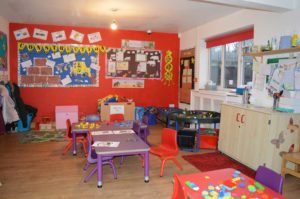 Each child will have a dedicated key person. The children are closely supported with any room transitions and any Special Educational Needs (SEN) or disabilities are identified early through close consultation with the child's parent / guardian.
A complete support package is offered to parents from emotional, social and physical support, through to SEN. Any outside professional support is sought at an early stage as required and regular reviews with parents and professionals are organised.
We are an equal opportunities employer and all are welcome here. Tolerance and acceptance of all ethnicities and abilities is key to this creative, warm learning environment. All children are made to feel special here and you will see them blossom.
We are a very close knit team with a strong educational background. The staff are recruited on their educational abilities and most importantly the ability to engage with the children and make them feel safe and inspired to learn.
We have an Area Manager educated to Degree level 6 with Leadership and Management qualifications and is also a qualified assessor of practice.
Both Sutton Hill and Madeley have a long standing Manager in place with years....... and years of experience.The remaining staff team are all level 2 and 3 qualified. We also take on apprentices to "grow our own" staff team.
All the team are friendly and approachable.
All members of staff are paediatric first aid trained and all staff are trained in safeguarding to deliver the best possible safe care to your child.
All staff are also food hygiene trained and are aware of the importance of nutrition and the safe management of allergies.
Thank you for taking the time to read through what we can offer you and your family. If you require any further information or would like to arrange a visit to any of the nurseries, please contact the individual nursery of choice directly.
We look forward to meeting you