About Us


Secure your place for September 2020 now.
Twiggy's Day Nursery Ltd is an Excellent nursery provision with a vision of providing a home from home feel within the heart of the local community.
We have a Good Ofsted rating and you can view the report here: https://files.api.ofsted.gov.uk/v1/file/50046188
Looking after children is such an amazing experience and we want to offer each child a place that is safe and secure and full of learning opportunities to grow and develop.
It is true that from little acorns, mighty oak trees grow and we provide the nurture, attentiveness, quality food and educational support that every child needs to reach their full potential whatever their starting point.
The Early Years Foundation Stage 2017 guidance forms the basis of all the work we do and is supported by the Working Together to Safeguard Children 2018 guidance to ensure effective learning and safe care is followed.
Our classrooms are bright and airy and have all new equipment and brand new facilities.
Our rooms are as follows:
Tweety pies – baby room for 3 months to confidently walking
This room will have a maximum of 9 children at any one time. It is homely and warm with lots of age appropriate stimulating toys and equipment to aid physical and social / emotional development. The staff are skilled in supporting the children's growing inquisitiveness and development. This room has fun loving and caring staff who are all first aid trained to ensure your children are given the care and attention that they need to feel secure. Please come along and book a taster session and spend time in the room to see how much fun your baby can have 🙂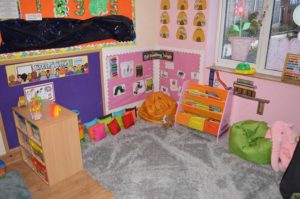 Little chicks – two to three year old room.
This room will have a maximum of 8 children at any one time. The room is light and airy and is spacious for the children to freely move around and explore their environment.
The toys and equipment are rotated regularly to help nurture their interests and developing learning styles and to capture their imagination.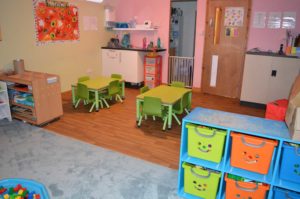 Robins – Pre school room for three to school age.
This is a large light and airy room with plenty of free space for the children to move about and explore their environment. This room has direct access to the outside play area and will have a maximum of 16 children at any one time.
The room has its own toilet area with small child size sinks and toilets to encourage independence to help children prepare for school.
Creativity and inspiring staff will support the children through to their school transition time.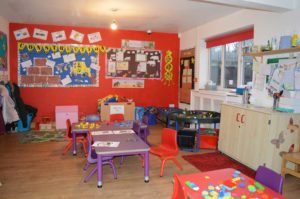 Each child will have a dedicated key person. The children are closely supported with any room transitions and any Special Educational Needs (SEN) or disabilities are identified early through close consultation with the child's parent / guardian.
A complete support package is offered to parents from emotional, social and physical support, through to SEN. Any outside professional support is sought at an early stage as required and regular reviews with parents and professionals are organised.
We are an equal opportunities employer and all are welcome here. Tolerance and acceptance of all ethnicities and abilities is key to this creative, warm learning environment. All children are made to feel special here and you will see them blossom.
We are a very close knit team with a strong educational background. The staff are recruited on their educational abilities and most importantly the ability to engage with the children and make them feel safe and inspired to learn.
We have a manager educated to Degree level 6 with Leadership and Management qualifications and is also a qualified assessor of practice.
The Deputy Manager is currently training towards her Level 5 qualification and has significant baby room experience.
The remaining staff team are all level 2 and 3 qualified.
All members of staff are paediatric first aid trained and all staff are trained in safeguarding to deliver the best possible safe care to your child.
All staff are also food hygiene trained and are aware of the importance of nutrition and the safe management of allergies.
Thank you for taking the time to read through what we can offer you and your family. If you require any further information or would like to arrange a visit to the nursery, please contact us directly to arrange.
We look forward to meeting you